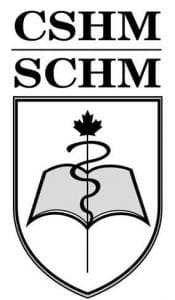 The Nominating committee is calling for a nomination for the following position on the board of the CSHM/SCHM: Secretary-treasurer
Nominees for this position should please submit a letter briefly outlining their interest by e-mail. Brief e-mail letters of support from three members in good standing of the CSHM/SCHM with permanent residence in Canada should accompany the nominee?s candidature letter.
---
Le comité de mise en candidature de la SCHM/CSHM sollicite des candidatures au Conseil d?administration pour le poste de secrétaire/trésorier-ère.
Les candidats-es intéressés sont priés de soumettre par courriel une brève lettre de présentation, ainsi que trois courtes lettres de soutien rédigées par des membres en règle de la SCHM/CSHM et ayant la résidence permanente au Canada.
On or before 15 May 2018, please send all communications to:
Veuillez envoyer votre candidature au plus tard le 15 mai 2018 à :
Dr. Jim Connor
CSHM/SCHM Nominations Committee Chair
email: [email protected]
---