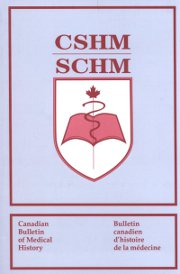 The Canadian Society for the History of Medicine is pleased to announce that the Canadian Bulletin of Medical History will now be published by University of Toronto Press Journals Division. The first volume with our new publisher will appear in Spring 2016.
Founded in 1984, the CBMH/BCHM is the leading national journal for the history of medicine, health, and related fields. Its aim is to situate the history of health, medicine, and biomedical science within local, regional, and international contexts. We publish high quality, original, refereed articles, with a coverage of all periods and aspects of medical history, both Canadian and international. The CBMH/BCHM has a proud and longstanding tradition of bilingualism: we publish articles and reviews in French and English, and all abstracts are translated into both languages. Send your submission to the co-editors (Erika Dyck & Kenton Kroker) at [email protected].
To ensure you continue to receive both issues of the CBMH/BCHM each year, be sure to renew your membership through the journal's new website.
La Société canadienne d'histoire de la médecine a le plaisir d'annoncer que le Bulletin canadien d'histoire de la médecine sera désormais publiée par le University of Toronto Press Journals Division. Notre premier numéro avec eux sera disponible au printemps 2016.
Fondé en 1984, le CBMH/BCHM est la principale revue canadienne en histoire de la médecine, de la santé et des domaines connexes. Son objectif est de replacer l'histoire de la santé, de la médecine et des sciences biomédicales au sein de leurs contextes locaux, régionaux et internationaux. Nous publions des articles de haute qualité, originaux, évalués par les pairs et nous couvrons tous les aspects et les périodes de l?histoire médicale canadienne et internationale. Nous publions des articles et des comptes rendus de livres en français et en anglais, et tous les résumés des articles sont traduits dans les deux langues officielles. Envoyez votre manuscrit aux co-directeurs (Erika Dyck et Kenton Kroker) à [email protected].
Nous voudrions vous rappeler de renouveler votre adhésion sur le nouveau site web de la revue afin de recevoir annuellement les deux numéros du Bulletin.