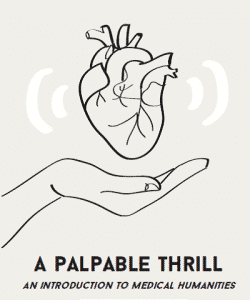 In the past decade, the discipline of medical scholarship has been experiencing a paradigm shift away from the strict adherence to biomedical ideology and towards an understanding of the medical experience that acknowledges that medicine is both a science and an art. At the same time, humanities scholars have been drawing on medicine as a point of inspiration, using narrative, fine arts, and critical theory to examine the depths of the human experience and to complicate our understandings of what it means to be healed, to be ill, to feel pain. However, significant barriers still exist between these two exciting fields of research; moreover, even within the fields, there are limited possibilities for engagement between students and professionals, students and scholars, artists and academics.
In the interest of promoting collaboration between these initiatives, the ?Humanities in Medicine Interest Group? from McMaster University?s Faculty of Medicine will host ?A Palpable Thrill,? an interdisciplinary conference that seeks to promote inclusion of the humanities in medical education and, conversely, encourage arts students and scholars to find salience and inspiration in medicine. We will to work create sustainable cross-disciplinary exchange by identifying common goals, barriers, and methods. We intend to help break down the divide between medical students, humanities students, and the larger professional and cultural communities that inform each of these fields of study. We hope to generate new ideas and develop practical skills among attendants that can be applied to future work and education.
The conference will be a two-day event from May 6th-7th held primarily at McMaster University in Hamilton, Ontario. The event will feature contributions in many different formats; we welcome submissions ranging from formal academic papers to workshop proposals to visual art and creative writing.
We look forward to reviewing your submissions and expanding our vision for the weekend as we receive them. We intend to provide logistical support for a wide variety of mediums; please notify us of any special requirements your project or presentation may have. Deadline for submissions is January 15, 2016.
To submit a proposal (max. 250 words) or for questions and enquiries, please contact us at [email protected].