A Cultural History of the Nurse?s Uniform by Christina Bates
November 2012, ISBN 978-0-660-20184-9
284 pages, 153 images, 22 x 27 cm, paperback
$39.95 (also in French)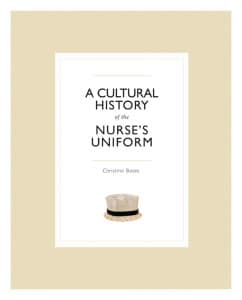 This first and only in-depth analysis of the attire worn by the largest workforce in the health care system explores the role of the nurse?s uniform in creating nursing identity for over a hundred years.
The introduction of the nurse?s uniform in the late nineteenth century was part of a strategy to legitimize North America?s first nursing schools. At first varied and experimental in design, by the early twentieth century the uniform was drawing on elements of fashionable, scientific, military and ecclesiastical wear, and had standardized into a blue or pink dress worn with stiffly starched white cap, bib and apron. This remarkable outfit lasted until the 1970s, when educational and societal changes brought about its demise, and practical scrubs became the most common nursing apparel. Seen through the lens of age, gender, class and race, this book shows how the uniform was an active participant in the changing culture of nursing work and thought.
Richly illustrated with images of actual garments and over 150 compelling period photographs, cartoons and drawings, the book?s ten chapters explore the uniform within the contexts of hospital, community, nursing school and residence. A Cultural History of the Nurse?s Uniform will appeal to nurses, historians and scholars of dress.
http://www.civilization.ca/research-and-collections/research/publications/new-releases/#7
Une histoire culturelle de l?uniforme infirmier par Christina Bates
novembre 2012, ISBN 978-0-660-97443-9
284 pages, 153 images, 22 x 27 cm, broché
39,95 $ (aussi en anglais)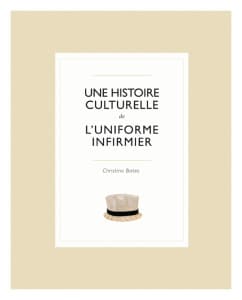 Cette toute première analyse en profondeur des vêtements portés par le plus grand groupe de professionnels du système de santé se penche sur le rôle de l?uniforme dans la création de l?identité infirmière depuis plus de cent ans.
L?adoption de l?uniforme infirmier à la fin du XIXe siècle relevait d?une stratégie de légitimation des premières écoles de nursing en Amérique du Nord. D?abord variés et expérimentaux, les modèles des uniformes empruntèrent, dès le début du XXe siècle, à la mode du temps mais aussi aux tenues militaires, scientifiques et religieuses. L?uniforme sera bientôt standardisé pour être essentiellement composé d?une robe bleue ou rose ainsi que d?une coiffe, d?une bavette et d?un tablier immaculés et fortement empesés. Il restera le même jusque dans les années 1970 alors que les changements sociaux et une nouvelle conception de l?éducation en sonneront le glas, la tenue de chirurgie, plus pratique, étant généralement adoptée. En s?arrêtant aux considérations d?âge, de sexe, de classe et d?origine ethnique, ce livre montre que l?uniforme contribue à une nouvelle culture du nursing et à la réflexion sur le travail infirmier.
Abondamment illustrés d?images de vrais vêtements et de plus de 150 caricatures, dessins et photographies d?époque, les dix chapitres de cet ouvrage traitent de l?uniforme à l?hôpital, dans les écoles et les résidences d?infirmières, et dans la collectivité. Une histoire culturelle de l?uniforme infirmier saura intéresser les infirmières et les infirmiers, les historiens et les spécialistes du costume.
http://www.civilisations.ca/recherche-et-collections/recherche/publications/nouveautes/#7