Induction 2016
Hamilton Convention Centre
Hamilton, Ontario
April 14, 2016
The preeminent medical historian of this era, Michael Bliss has introduced our heritage of medical research, health care, achievements and discovery to Canadians and readers around the world. His award-winning books, interviews and lectures have furthered international understanding and appreciation of the contributions of towering figures of Canadian medicine.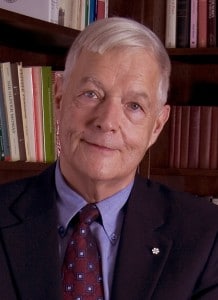 Professor Bliss?s masterpiece The Discovery of Insulin is a timeless classic, beautifully recreating one of the great discoveries of medical history. Reinforced by Banting: A Biography, the definitive life of Canada?s only Nobel laureate in physiology or medicine, his work became the basis of the acclaimed television mini-series, Glory Enough For All. His extensive oeuvre also includes Plague: A Story of Smallpox in Montreal, Harvey Cushing: A Life in Surgery and William Osler: A Life in Medicine – the latter another instant classic as the standard biography of the legendary Canadian physician who was one of the founding fathers of modern medicine. Lesser known is his contribution as author of the compelling final draft of the 1991/1992 Strategic Plan Investing in Canada?s Health for the Medical Research Council of Canada, an important catalyst in its transformation into the CIHR.
For more information, please download the induction ceremony package.