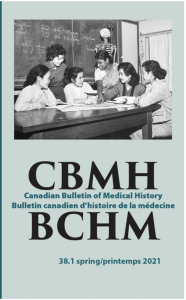 Founded in 1984, the Canadian Journal of Health History (CJHH), formerly the Canadian Bulletin of Medical History, is the leading national journal for the history of medicine, health, and related fields. Its aim is to situate the history of health, medicine, and biomedical science within local, regional, and international contexts. We publish high quality, original, refereed articles in French and English. 
All members of the Canadian Society for the History of Medicine receive subscriptions to the CJHH. To renew your membership, please click here. Your journal subscription is also your annual membership fee.
If you have any questions or experience any issues accessing your content, please let us know. Contact the University of Toronto Press Journals Dept. by email at [email protected] or by phone at (416) 667-7929.
Co-directors 
Whitney Wood, PhD
Canada Research Chair in the Historical Dimensions of Women's Health
Vancouver Island University
900 Fifth Street
Nanaimo, BC  V9R 5S5
Tel: 250-740-6538
E-mail
Aline Charles, PhD
Université Laval
Pavillon Charles-De Koninck
Bureau 3237
Québec, QC G1V 0A6
Tel: 418-656-2131 x 402137
E-mail
Book Reviews