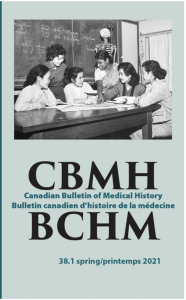 The Canadian Bulletin of Medical History/Bulletin canadien d'histoire de la médecine is very excited to announce the online publication of Vol. 33 Issue 1, as well as the official launch of a brand new online platform.
If you are already an online subscriber, you do need to register for an online account before you can access the journal's new content. Please click here to register for a CBMH/BCHM Online account. Once you have completed this step, please email UTP Journals at [email protected] to have your access to the journal content activated.
All members of the Canadian Society for the History of Medicine receive subscriptions to the CBMH/BCHM. To renew your membership, please click here.
Our new platform offers visitors a user-friendly online experience, including a plethora of new resources and features such as robust search and browse functionality, Tables of Contents alerts, social media integration, most read and most cited featured articles, and a rich mobile experience, to name only a few.
We hope you find the site easy to use and enjoy its updated, fresh look. We encourage you to take the time to explore the functionality of the responsive platform to search, read, cite, and share our journal content. If you have any questions or experience any issues accessing your content, please let us know. Contact the University of Toronto Press Journals Dept. by email at [email protected] or by phone at (416) 667-7810.
Co-directors 
Erika Dyck, PhD
Canada Research Chair in the History of Medicine
University of Saskatchewan
Arts 615, College of Arts & Science
Saskatoon, Saskatchewan S7N 5A5
Tel: (306) 966-5049
E-mail
Aline Charles, PhD
Université Laval
Pavillon Charles-De Koninck
Bureau 3237
Québec, QC G1V 0A6
Tel: 418-656-2131 x 402137
E-mail
Book Reviews