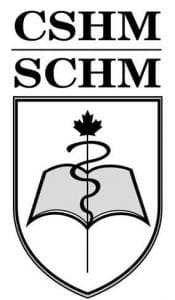 Members of the Canadian Society for the History of Medicine (CSHM) receive the Canadian Journal of Health History as a benefit of membership. They also become part of an international network of scholars, with opportunities to participate in the annual meeting and other conferences with others interested in research on the history of health and medicine.
Dues 
Regular: $80 (print or online)
Institutional: $99 (online) $105 (print & online)
Retired/Student/Postdoctoral: $45.00 (print or online)
Membership dues are paid each year by renewing your annual subscription to the Canadian Journal of Health History published by University of Toronto Press (UTP). The journal subscription is equivalent to paying your membership dues. Click on the link below to complete this renewal process.
For more information, contact:
University of Toronto Press, Journals
5201 Dufferin St.
North York, ON M3H 5T8
Canada
(416) 667-7810
(416) 667-7881 (Fax)
(800) 221-9985 (Fax)
[email protected]
www.utpjournals.press