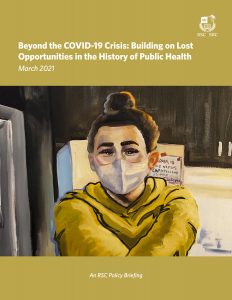 The policy briefing of the Royal Society of Canada on the importance of building on missed opportunities in the history of public health is now available!  
From the press release for the policy briefing:
COVID-19 has forced us to re-learn the importance of maintaining basic infectious/communicable disease control capacity, and revealed the cost of our failure to do so. It has also drawn our attention to the intersection between social inequality, racism and colonialism, and vulnerability to disease. In addition to investing in our capacity to contain disease outbreaks as they occur, we must plan now for how to achieve greater health equity in the future, by addressing underlying economic and social conditions, and providing meaningful access to preventive care for all. This is how we build a truly resilient society.
You can read the policy briefing linked in the PDF below. 
Overview of Beyond the COVID-19 Crisis: Building on Lost Opportunities in the History of Public Health